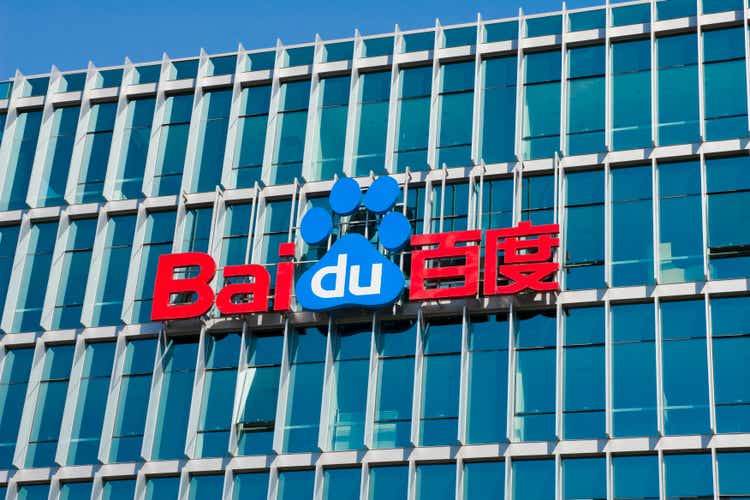 Baidu (NASDAQ:BIDU) stock rose about 2% pre-market on Tuesday after the company's third quarter results beat estimates.
Meanwhile, several Chinese stock were in the red; Alibaba (BABA), JD.Com (JD) and Bilibili (BILI) were all down about 1%.
Baidu's non-GAAP earnings per American depositary share, or ADS, rose about 21% year-over-year to RMB20.40, or $2.80; Consensus EPS estimate was $2.34. However, quarter-over-quarter it declined about 10%.
Total revenues grew 6% year-over-year to RMB34.45B, or $4.72B; Consensus Revenue Estimate was $4.71B.
Robin Li, co-founder and CEO of Baidu said in the third quarter earnings release that that the company has fully opened ERNIE API to cloud enterprises, enabling them to develop their own AI-native applications.
In October, the Chinese tech giant launched its latest generative artificial intelligence, or AI, model Ernie 4.0, a potential rival to OpenAI's GPT-4 model. The company, reportedly, in November unveiled a paid version of the chat tool, Ernie Bot.
"Our AI-centric business and product strategy should set the stage for sustained multi-year revenue and profit expansion within our ERNIE and ERNIE Bot ecosystem," Li commented.
Li had previously warned that the rush to develop large language models in China could lead to wasting of resources, adding that companies needed to focus efforts on developing practical applications.
This point was reirterated by CFO Rong Luo in the earnings release.
"Moving forward, while we will continue prioritizing investments in AI, especially in generative AI and foundation models, we will do so with an unrelenting focus on efficiency and strategic resource allocation," said Luo.
Revenue from Baidu Core rose about 5% year-over-year to RMB26.57B, or $3.64B. Baidu Core maintained stable margins in the quarter, according to Luo.
Online marketing revenue grew about 5% year over year to RMB19.7B, or $2.70B. Meanwhile, non-online marketing revenue increased around 6% year-over-year to RMB6.9B ($943M).
Online entertainment service iQIYI' revenue climbed 7% year-over-year RMB8B, or $1.10B.
The company noted that iQIYI's average daily number of total subscribing members in the third quarter was 107.5M, compared to 101M in the year ago period; but down from 111.2M in the second quarter of 2023.
iQIYI's monthly average revenue per membership grew 12% year over year to RMB15.54; for the second quarter of 2023 it was RMB14.82.
In addition, Baidu noted that it appointed Sandy Ran Xu as an independent director, effective Jan. 1, 2024.
Xu has served as CEO and executive director of JD.com (JD) since May 2023.