Over the last month, Bitcoin's price has seen a significant surge. Its price has increased by 30%, reaching a new yearly high of $35,000, 10% above its previous peak this year. Interestingly, while the growth of Bitcoin is clear to see, the broader cryptocurrency market hasn't quite managed to keep up.
Altcoin Market Cap
The Altcoin market cap, which is the total cryptocurrency market cap excluding Bitcoin, has been trading within a descending triangle. This pattern, characterized by its lower highs and equal lows, often indicates a bearish trend in the market. This pattern suggests sellers are gradually overtaking buyers.
A breakout from such a pattern is typically seen as a bullish indicator, with the target being the first peak. In this case, the Altcoin market cap would potentially see another 15% increase, matching the yearly highs in April.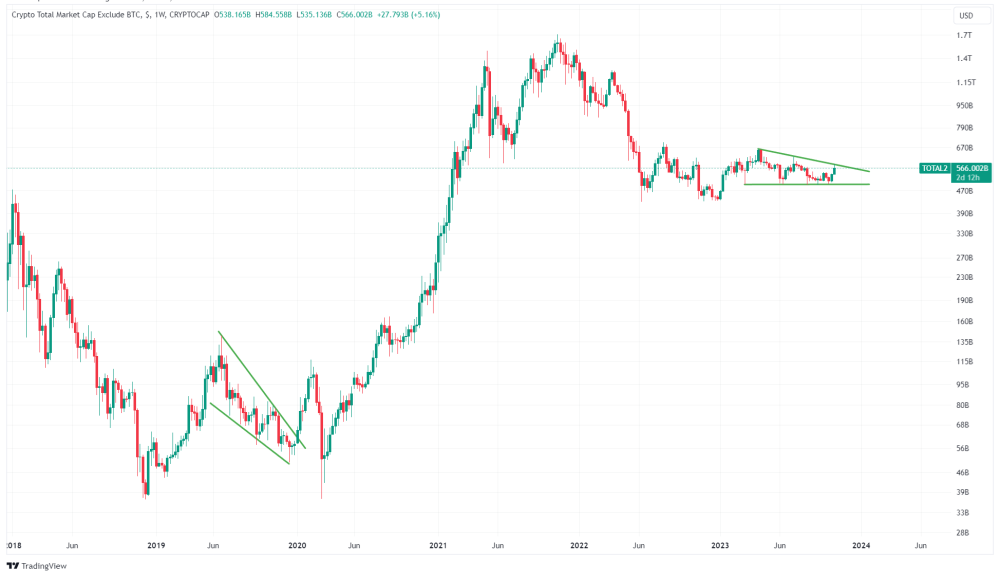 Crypto total market cap excluding BTC. Source: TOTAL2 on TradingView
A similar pattern was seen in the previous cycle, where the Altcoin market cap was trading within a descending wedge. After the breakout, the Altcoin market cap saw an increase of 90%. Such historical trends show the importance of closely monitoring these patterns as potential indicators of market shifts.
Contrastingly, as the Altcoin market cap is forming lower highs, Bitcoin's price is forming new yearly highs. This dynamic suggests that Bitcoin is gaining market share from the rest of the crypto market. This is often referred to as 'Bitcoin Season'.
Bitcoin Season
Bitcoin's market share is at 54%, which is the highest it has been in over two years.
The last time Bitcoin's market share was at this level was during the bull market in 2021. As that year progressed, the asset began losing market share, as investors turned their attention to coins with lower capitalization, enticed by the prospect of higher returns.
Now the trend seems to be reversing. Investors are gravitating back towards Bitcoin, lured by its higher returns than the rest of the crypto market.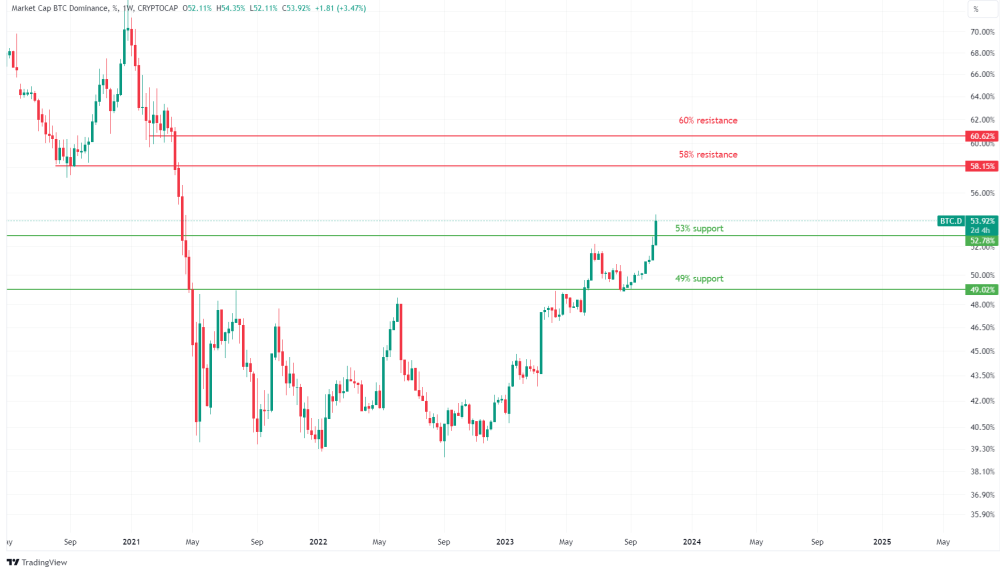 Bitcoin dominance (market share % in the cryptocurrency market). Source: BTC.D from TradingView
The next resistance is at 58%, so if Bitcoin breaches this mark, it stands to gain an additional 5% in market share.
Historical trends have shown that in the initial phases of bull markets, Bitcoin often takes charge, as it pushes on to create new all-time highs. This is typically driven through Bitcoin-centric narratives such as the halving which reduces the new supply of Bitcoin being mined. This year, heightened anticipation surrounds the potential approval of a Bitcoin ETF. If approved, it could pave the way for a wider range of investors to engage with the asset.
Standout Altcoins Performers
Even during the dominant 'Bitcoin Season', certain Altcoins have still managed to show even more impressive returns. Some notable ones are the following:
Injective: +74%
Solana: +68%
PEPE: +67%
RENDER: +45%
Chainlink: +45%
Investment Disclaimer: The content provided in this article is for informational and educational purposes only. It should not be considered investment advice. Please consult a financial advisor before making any investment decisions. Trading and investing involve substantial financial risk. Past performance is not indicative of future results. No content on this site is a recommendation or solicitation to buy or sell securities or cryptocurrencies.
Featured image from ShutterStock, Charts from TradingView.com
title_words_as_hashtags