Being born and raised in a big city, Prateek Ghatage, 35, didn't expect himself to be buying his first home in a smaller city in the Midwest.
The infectious-disease physician, who grew up in Mumbai, India (population: 12.5 million), had just finished a fellowship in Vermont and moved to work at a local hospital in Topeka, Kan., in 2020. 
Ghatage had considered buying a home when he moved during the pandemic, browsing through Zillow
ZG,
+1.26%,
trying to contact agents to set up appointments, and attending some open houses. But he never really sunk his teeth into the process, and opted to rent instead. 
"I didn't have a plan to buy. I had just come back from India a few months ago, and thought I was going to continue with the [rental] lease," which was up for renewal in early August, Ghatage told MarketWatch.
But when a nurse at his hospital asked him why he was renting a home for $1,350 when he could be paying the same amount toward a mortgage, a light went off in his head. 
"For the last couple of years, I've tried to buy, but I was very new to the area," Ghatage said. "The whole thing was really new to me." At the time, he also had difficulties getting in touch with listing agents as well as mortgage lenders.
The colleague offered to introduce him to her friend, who was a real-estate agent. Ghatage accepted, and he began house hunting.
The doctor is far from alone in choosing to buy in Topeka. In fact, the city is one of the hottest emerging real-estate markets in the U.S., according to the WSJ/Realtor.com® Fall 2023 Emerging Housing Markets Index, released Wednesday.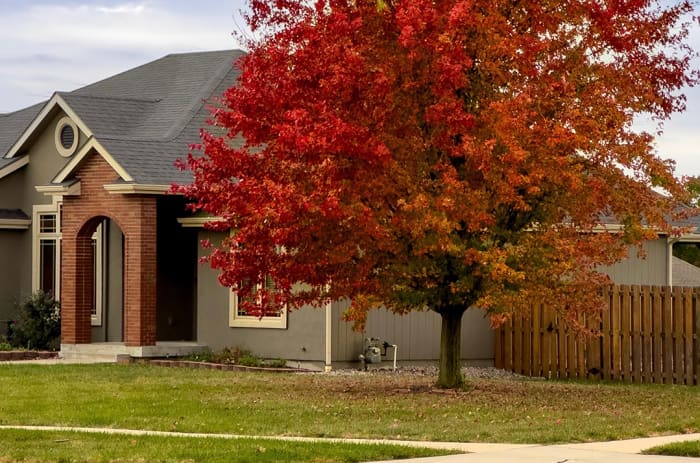 Looking at the top 300 most populous metro areas and analyzing them by a number of factors including a city's economic health and quality of life, unemployment trends, wages, cost of living and projected home-price appreciation, the real-estate company ranked Topeka as the No. 1 emerging market. 
Other cities in the Midwest made the top five, including Elkhart-Goshen, Ind., Oshkosh-Neenah, Wis., Fort Wayne, Ind., and Lafayette-West Lafayette, Ind. 
The Top 20 Emerging Markets for Fall 2023, according to Realtor.com
1. Topeka, Kan.
2. Elkhart-Goshen, Ind.
3. Oshkosh-Neenah, Wis.
4. Fort Wayne, Ind.
5.Lafayette-West Lafayette, Ind.
6. Racine, Wis.
7. Manchester-Nashua, N.H.
8. Concord, N.H.
9. Columbus, Ohio
10. Johnson City, Tenn.
11. Kingsport-Bristol-Bristol, Tenn.-Va.
12. Jefferson City, Mo.
13. Springfield, Ohio
14. Santa Maria-Santa Barbara, Calif.
15. Dayton, Ohio
16. Janesville-Beloit, Wis.
17. Canton-Massillon, Ohio
18. Knoxville, Tenn.
19. Hartford-West Hartford-East Hartford, Conn.
20. Worcester, Mass.-Conn.
Some of the key reasons why the Midwest is considered an "emerging" housing hot spot are its affordable housing as well as its relatively low cost of living. While the national median home price in September was $430,000, the typical home in Topeka, for instance, was just $250,000 — 42% less. 
Liesel Kirk-Fink, a Topeka-based real-estate agent with Kirk & Cobb Inc. who worked with Ghatage, told MarketWatch that homes priced within the range of $150,000 and $250,000 are particularly hot in the city.
"You look at a $250,000 [house] and people are competing for it," she said. "People are buying as-is, no inspections, paying over asking price. … These homes are going very fast." 
See also: Peek inside Travis Kelce's magnificent new mansion near Kansas City
Kirk-Fink, who grew up in Topeka, said that part of the allure of the city was the lower cost of living for those who are considering moving from more expensive areas. There are also many employers there — from a new mall operator to the Frito-Lay
PEP,
-1.11%
plant to medical institutions. Topeka, with a population of about 125,000, is also the state capital and home to Lake Shawnee, arts and entertainment districts, and the Evel Knievel museum.
For home buyers considering a move to Topeka, the winter season is slow, Kirk-Fink added, tracking seasonal trends.  Even though high mortgage rates are weighing on some aspiring homeowners, Kirk-Fink said, some buyers like Ghatage aren't spooked. 
"Topeka and the surrounding territory are still among the most affordable markets in the country at approximately half the median price," she added.
Kirk-Fink and Ghatage viewed nearly 20 open houses, and Ghatage was able to find something he liked in the $400,000 price range. The homes below $200,000 required work, and newly built houses were too pricey and unappealing given how much smaller they were.
Ghatage recently closed on his first single-family home in Topeka at $400,000, with a 30-year mortgage at a rate of 7.49%. He put 10% down.
Ghatage said moving to Kansas was a "definitely an adjustment" at first. But he's come to enjoy the city's pace of life, which feels less hectic than it did when he lived in New Jersey for three years before his stint in Vermont.
"Life is easy over here," Ghatage said.
The lower cost of living is definitely a draw, and it leaves room for spending on other things, he said. He's hoping to fly his mom over from India to visit him and his brand-new home for Diwali, a Hindu festival celebrated in November.
"Even if it's expensive [to book tickets so close to the date] … I will still go ahead and bring her here, because it'll be nice for her to spend time with me and the new home," Ghatage said.
His only regret? Not buying back at the start of the pandemic. 
"I keep on regretting not buying in 2020 because this home that I bought was $80,000 cheaper," Ghatage said. "And that's when rates were so low. If I could do it again, it would've been an awesome financial decision." 
(Realtor.com is operated by News Corp subsidiary Move Inc., and MarketWatch is a unit of Dow Jones, which is also a subsidiary of News Corp.)