The four major professional U.S. team sports — football, baseball, basketball and hockey — continue to attract fans by the millions. And emerging sports, such as pickleball, find new followers.
But some say it's time to raise the flag for a different game — literally.
Flag football, the tackle-free version of American football, is quickly gaining ground among participants and could become a legitimate spectator sport in the coming years. Consider the recent announcement that flag football will debut at the Olympics during the 2028 summer games in Los Angeles, joining such other sports as squash, cricket, lacrosse, softball and baseball as ones making their first appearance or returning to the prominent international athletic event.
The Olympics news is the culmination of a years-long effort to grow the sport into a serious contender, a push that has been heavily supported by the tackle-oriented National Football League, plus a host of other businesses and organizations.
And it's a push with big dollars attached to it — and lots of heady optimism.
"Flag football is a movement," says Jeff Lewis, founder of the American Flag Football League, a professional platform that's set to debut next year. Lewis told MarketWatch that tens of millions of dollars have gone into establishing the AFFL, though he declined to provide a specific figure.
Some 7.1 million Americans played flag football in 2022, according to research from the Sports & Industry Fitness Association, an increase of 8.4% versus five years earlier. Participants covered almost every group and demographic: men and women, college and high-school graduates, East and West Coast residents.
The game is proving especially popular with young women, say representatives with USA Football, the governing body for both tackle and flag football in the U.S. and the organization that will be behind the men's and women's national teams competing in 2028 Olympics.
USA Football notes that girls' flag football is now sanctioned as a varsity sport in eight states, with more offering pilot programs. Plus, there's a national women's flag football championship at the collegiate level.
And flag football is very much poised to go pro. The AFFL will launch in 2024 with a men's division, with teams in Boston, Dallas, Las Vegas and Nashville, according to Lewis. A women's division will follow in 2025.  
Lewis, a veteran financial professional, said that franchise fees are going for $3 million. He's particularly bullish about the prospects for the women's league, seeing flag football as becoming the biggest women's spectator sport, as measured by revenue, within the next decade.
In other words, bigger than even the WNBA, which already brings in at least $180 million in revenue.
"'Flag football is a movement.'"

— Jeff Lewis, founder of the American Flag Football League

Meanwhile, the NFL's commitment to flag is focused on the youth aspect — specifically, the NFL Flag program, which encompasses 2,000-plus youth leagues with 700,000-plus boys and girls, ages 5 to 17, participating. (There are also flag leagues run independently of the NFL.)
The NFL hasn't completely ignored the pro aspect, either: The league turned the Pro Bowl — its version of an all-star game — into a flag football event this year. The idea was to address the fact that players in previous Pro Bowls were concerned about risking injury to participate in what is essentially an exhibition contest. Switching to the non-tackle format solved the problem and didn't seem to take away from the excitement, at least according to league officials.
"I don't see us going back [to tackle] in any way," NFL commissioner Roger Goodell said of the Pro Bowl flag format after this year's game.
Indeed, the safety factor is key to flag football's growing popularity, especially at a time when there's increased awareness of the risk of injuries, especially concussions, in tackle football. Participation in high-school tackle, for example, is down 12.2% from its 2008-09 peak.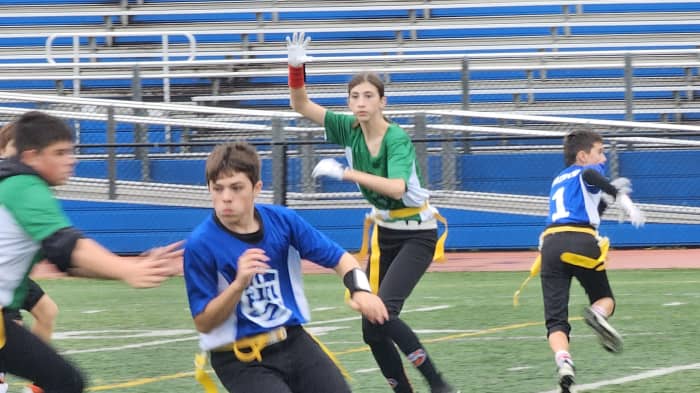 Andrew Zimbalist, an economics professor at Smith College and a sports-business expert, goes so far as to say that promoting flag is "a backup strategy" for the NFL. By that, he means if tackle football suffers a much greater decline in popularity or is perhaps even banned, the league has another version of the game ready to showcase.
But more likely, Zimbalist and others say the NFL sees promoting flag as a fun way to introduce people to football in general, with the idea that it will hopefully lead them to watch the professional tackle version the league embodies.
"It's going to drive fandom" for the NFL, says Scott Hallenback, chief executive of USA Football.
That could be critical with women, since it's a group that has been key to the league's growth plans. Of course, Taylor Swift's sudden interest in the game, due to her budding relationship with Kansas City Chiefs tight end Travis Kelce, hasn't hurt in terms of developing a female fan base, either.
"'It's leaps and bounds more entertaining to watch than a pickleball match." "

— Former NFL player Izell Reese, who is chief executive of RCX Sports, the company that runs the NFL Flag program.

Flag football has other factors in its favor, say advocates. On the participant side, it's a relatively low-cost game to play since it requires so little equipment — unlike tackle football, there's no reason to use protective gear.
"You just need a ball," says Danette Leighton, chief executive of the Women's Sports Foundation.
Well, you also need flags. And if you want proof that flag football is becoming more popular, just speak to David Berg, founder of Shruumz, an Austin, Texas, company that specializes in flag football gear. He says sales have been climbing at least 50% annually since he started the business in 2019.
Berg adds that while the level of play can be very competitive in the upper echelons of the sport, the appeal of flag football is that it can be appreciated by all sorts of people at all skill levels.
"There are dads who play in their tennis shoes," Berg says.
In terms of spectator potential, particularly when it comes to television networks or streaming platforms, some say the best thing going in flag's favor is that there's simply a need for more product to fill all the slots these viewing outlets have. Think how the backyard game of cornhole has even found its way to TV.
"There's a window for niche sports that never used to be," says Zimbalist.
Pickleball is making a play for the spectator crowd, too. There' a pickleball pro league and plenty of pickleball for home viewing. But the flag football crowd argues that their game makes for better viewing, given that it's not too different from the NFL tackle football that is an American obsession.
"It's leaps and bounds more entertaining to watch than a pickleball match," says Izell Reese, a former NFL player and chief executive of RCX Sports, the company that runs the NFL Flag program.
Still, the very fact that flag football isn't tackle may ultimately stand in its way, some say. Even enthusiasts admit this.
Take Odessa "OJ" Jenkins, founder of the Women's National Football Conference, a professional women's tackle league that is developing a flag league as well. Like others, Jenkins sees flag as a "pipeline" for people to build that basic awareness of football. But nothing can compete with the intensely physical version of the sport that tackle represents.
"Tackle football is the queen and king" of the game, she says.
But for Princeton, N.J., resident Jennifer Lea Cohan, flag is still the version of the sport her 13-year-old daughter, Milla Petrecca, appreciates. As a mother, Cohan says she likes the fact that the game has a lower risk of injury. Meanwhile, her daughter just likes the competitive aspect.
The only problem? Milla's team isn't exactly the star of its league. "They're a little win-challenged," Cohan concedes.